Welcome to The Red Barn's Online Store!
Below, you will find a selection of T-Shirts, Hats, & Gift Cards available for purchase.
**We apologize but we are no longer selling Laura's Famous Seafood Stew on our online store.**
IMPORTANT PAYMENT INFORMATION
All online orders will be processed via Paypal. This is a free service to our customers and does NOT require a Paypal account or subscription to complete your online order with us. Paypal will process any major debit/credit card. If you have an existing Paypal account, the checkout process will be streamlined. 
Laura's Seafood Stew (1 Quart)
00009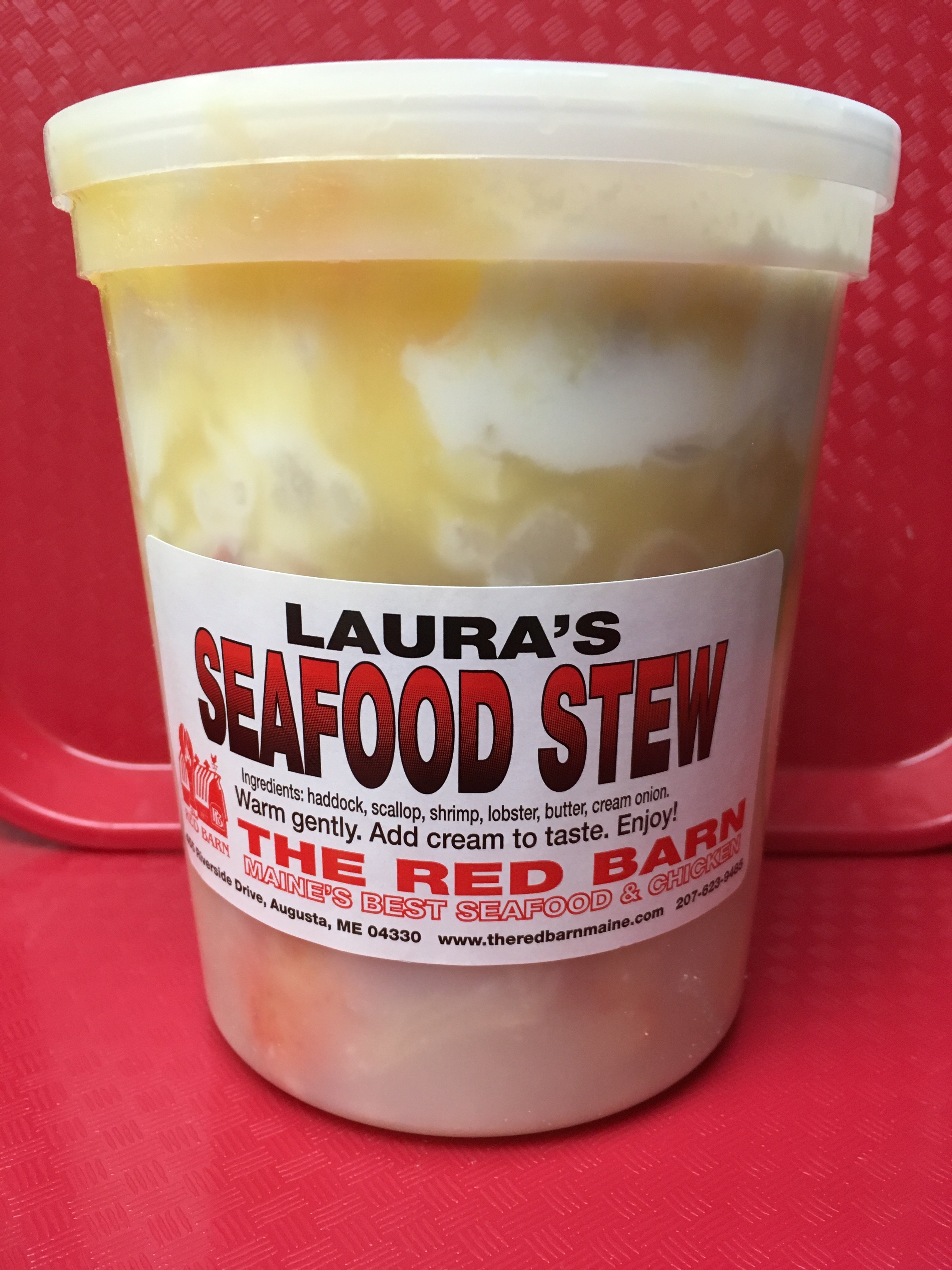 Laura's Famous Seafood stew is loaded with Haddock, Shrimp, Scallops, and fresh Maine Lobster in a cream base. Each quart serves 3 people. It is made fresh everyday and flash frozen before shipping, therefore we have a limited number in stock and inventory changes daily!
**Important Shipping Information- Please Read**

For orders of more than 6 Quarts please call our shipping department at (207) 624-1027 so we may better assist you!

To ensure the stew is delivered properly, orders for stew must be delivered to an address where someone will be present to receive the shipment. An indirect signature will be required upon delivery!

Laura's Seafood Stew will be shipped in a special box lined with styrofoam with ice packs. Because our Seafood Stew is perishable, Stew will be shipped via FedEx 2nd Day Air only on Mondays, Tuesdays, and Wednesdays to ensure the stew will be delivered before the weekend. (Please disregard and continue the checkout process if you see FedEx Ground as the only shipping cost during checkout- the stew will always be shipped via FedEx 2nd Day. Other items- gift cards, t-shirts, and hats- may come separately via USPS.)
**We Ship to only the Contiguous United States; we are unable to ship to Alaska or Hawaii at this time. We apologize for the inconvenience.**
If you have a special delivery request or require delivery on a Friday or Saturday please call our shipping department at (207) 624-1027 to order and arrange a custom delivery.